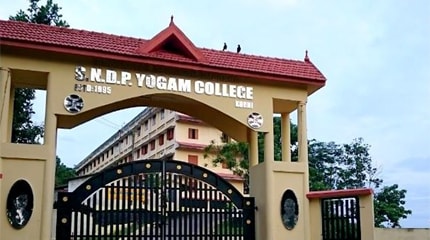 PREAMBLE
Sahodaran Ayyappan Smaraka SNDP Yogam College, founded in 1995 is one of the fast-growing HEIs in the village of Konni, the most backward quarter of Pathanamthitta District. This sanctum sanctorum of learning was the first of its kind in the hilly and forest terrain. Since the inception, the opportunities it threw open to this educationally backward sphere have been inestimable. The way it modified the socio-economic life of this rural area can be discerned from the achievements of its alumni in their professional career and from the reputable transformation it effected on the members of their families. Having started with around 160 students, the college has now a strength of over 800 students, 40 teachers and 20 administrative staff. The college enjoys a real social accreditation in its earnest efforts in imparting value-based education while steadily upgrading itself to address the requirements of the students as well as the rustic population around.
In 1995 the college offered three UG programmes, BBA, BCA and B.Com. BBA and BCA programmes were designed by the University as new-generation, professionally oriented courses. In academia, the college opened its innings with a bang, bagging two university ranks off the first batch itself. This centre of learning cruises ahead steadily with active participation in the domains of arts, culture, sports and games.
Today, the college offers four Undergraduate programmes and five Postgraduate programmes with MSc Geology as the latest addition.
The college has so far been acknowledged with the following honours.
* Award by Khadi and Village Industries development agency of India in association with Indian Institute of Ecology and Environment
* New Delhi National Environment Awareness Award.
* NSS Certificate of Merit Second Best Unit 2008- 2009.
* Global society for health and education growth New Delhi-best educationist award to Prof. P K Mohanaraj (Principal).
*Best NSS Programme Officer and Best NSS Unit Award for 'Jaivom' Organic Literacy Drive in Pathanamthitta District of National Service Scheme, Mahatma Gandhi University (2017)
*Mahatma Gandhi University National Service Scheme Best Programme Officer and Best NSS Unit Award – Certificate of Appreciation (2017-2018)
*Mahatma Gandhi University National Service Scheme Best Programme Officer and Best NSS Unit Award (2018-2019)
*Mahatma Gandhi University National Service Scheme Best Programme Officer and Best NSS Unit Award (2019-2020)
*Kerala State Best National Service Scheme Programme Officer and Best NSS Unit Award (2019-2020)
This HEI is a co-educational institution, and it is noteworthy that in the opening years, most students were men, but as much water flowed under the bridge, the trend has taken a reversal and for the last 16 years, co-eds form the majority.
As around 99% of the students of this institution are from Konni and the adjacent hamlets, the need for hostel accommodation is limited to a few students and the college arranges stay for students through home stay and board facility. In the 1990s the college ran a women's hostel in a rented building, but the number of students in need of hostel facilities gradually dwindled and came to a handful. Thus, the college ceased providing hostel facility directly and made alternate arrangements.
Many a welfare scheme is designed here to provide education to students from all categories with special emphasis on the unprivileged sections of society. Students' Union and various clubs here foster students' interest and talents in many other fields. These forums conduct numerous competitions on the campus and provide training on diverse art forms conducive to grooming students' skills and talents. With a view to training students to responsible citizenship, active units of National Service Scheme, National Cadet Corps, Bhoomitrasena and Women Cell function in the college. Students join hands with the local self-government bodies and NGOs to partake in programmes of public concern and benefit. Link and collaboration have been established with reputed institutions and agencies by signing MoUs for teaching-learning, internship and extension.
Awareness campaigns on environmental issues, solid waste management, energy conservation and eco-friendly living are held here under the initiatives of various forums and clubs. The students participate enthusiastically in 'Green Campaigns' organised by the forest department. The college has developed innovative and effective techniques for recycling of plastic and disposal of solid waste. Making of organic manure through vermicomposting and pipe compost ensures safe and sustainable co-existence with nature. Efficient management and harvesting of rainwater on this hillock campus are worth noticing.

The college indefatigably strives to uphold the teachings of Sree Narayana Guru Devan and Sahodaran Ayyappan in all its deeds keeping in mind the axiom "Enlightenment through Education."